Sponsor A Resident Farm Animal
Not everyone is able to provide the required shelter or long-term financial commitment needed to rescue a farm animal. Farm Animal Care Sponsorships offer a unique opportunity to compassionate people who would personally rescue as many animals as they could – that is if they had the proper housing, zoning, and time to devote to animal care.
Our program is designed to help meet the expenses of the sanctuary while allowing you to take a personal interest in the life of an individual animal. For as little as $30.00 a month you can sponsor an animal resident. Your donation will go directly toward shelter, food and medical care of the animal of your choice. Sponsorships also make a great gift for your animal-loving family and friends.
If interested in sponsoring one of the animals at Mountain View Farm Animal Sanctuary below, please choose the appropriate sponsorship button next to their picture.
GRACE
Grace is a lovely older, retired Standardbred mare that has found her soft place to land and spend the rest of her years of well-deserved rest here at the Sanctuary. She was rescued in January 2016 by Gerda's Animal Aid just moments before being loaded on a truck to go to slaughter in Mexico at a feedlot in Pennsylvania. This sweet girl served many years of dedicated work to humans as a harness racehorse, a broodmare and then an Amish buggy horse for many hardworking years. As a result of the work she endured, Grace has very weak hind legs causing her to never be sound to ride or drive again, which is quite alright because she deserves her retirement. She arrived to us very thin, with health issues related to the neglect she experienced prior to rescue, but she is slowly being rehabbed and will now live out the rest of her years happy, healthy and safe. She has an incredible temperament. She is the essence of wisdom and resilience, with a bright spirit.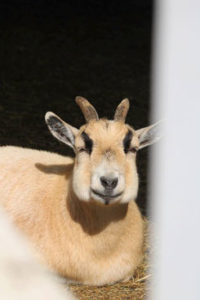 JULIE
Julie is one of the smaller pygmy goats, along with Lily and Matilda. She has a beautiful buttermilk coat and an intense curiosity, though is the most skittish of the goats. She is particularly fond of Melvin and was the first goat that he bonded with upon arriving at the sanctuary.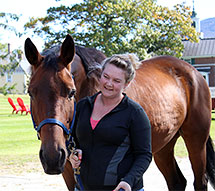 LEANDER
Leander was rescued by us at a very young age to give him the opportunity of a full life because he has a congenital spinal condition called "Wobblers" that causes periodid ataxia (unsteadiness) that prevents his being ridden. Leander is a Thoroughbred gelding in his early teens. He is very playful and can sometimes be a bit mouthy or "nippy", but is not mean-spirited one bit. He does not let his condition prevent him from enjoying life and can often times be seen running, rearing and bucking with his pasture-mates.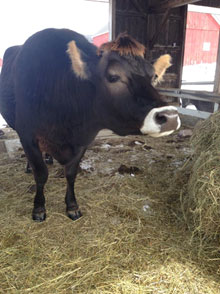 CABOT
Cabot was rescued from a farm by a young woman just before he was to be processed for veal. She had befriended him almost since birth and called us quite upset when she learned of the fate that was planned for him. At first, Cabot was so small that he had to be kept from the larger cows we have rescued, but now he is big and strong enough to be with them out in the large field, and he seems to like that a lot. He is the friendliest of the cows, probably because he was treated so well by the young woman who asked us to take him in.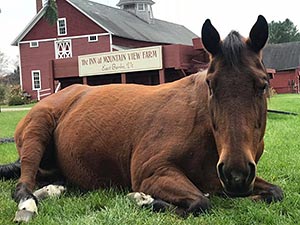 Dolly
Dolly is a gentle and curious, sweet older Quarter Horse mare who came to us on Valentine's Day 2018 when she was rescued from a situation of neglect. Dolly has had a long road of rehabilitation and recovery, which we suspect will continue due to her chronic physical issues, but she still remains to have a bright outlook on life.
Dolly is missing her right eye from an event that happened at a young age, but the loss doesn't seem to bother her one bit. She enjoys spending her days napping in the hay, accompanied by her pasture mates Grace and Destiny. Thank you for making a donation to help us support Dolly.


$30/monthly for 6 months $50/monthly for 6 months $100/monthly for 6 months

$30/monthly for 1 year $50/monthly for 1 year $100/monthly for 1 year
$30/monthly for 2 years $50/monthly for 2 years $100/monthly for 2 years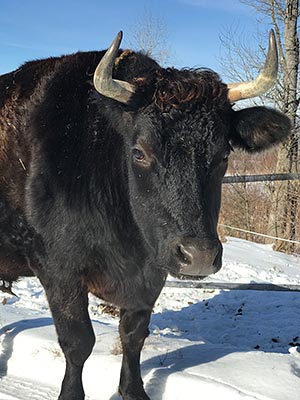 REMI
Remi is a robust and curious young steer that came to us when Cabot lost his two older companions due to age. At the same time, the rescue that had taken Remi in as a rescue from slaughter was in search of a suitable place for him to live out his life. Now he happily resides at the Mountain View Farm Animal Sanctuary, experiencing the joy of living out his days with his pal, Cabot, at his side. Remi and Cabot are similar in appearances, however, Remi has handsome big horns.


$30/monthly for 6 months $50/monthly for 6 months $100/monthly for 6 months

$30/monthly for 1 year $50/monthly for 1 year $100/monthly for 1 year
$30/monthly for 2 years $50/monthly for 2 years $100/monthly for 2 years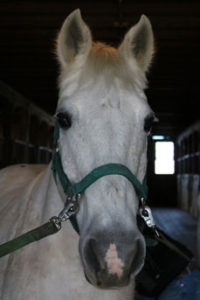 BUCKLES
Buckles was surrendered to us by his lifetime owners because they were no longer able to physically care for his needs. He started out his life on western ranch and became a trail/pack horse, going on adventures for many years, until his owners decided to move to the east coast. Buckles is a grade, Quarab (Quarter Horse/Arabian cross) gelding in his late 20s. He is very mindful of people, but always aware of anything that might frighten him. He is always the first one to start shedding and tell us that "Spring is here!"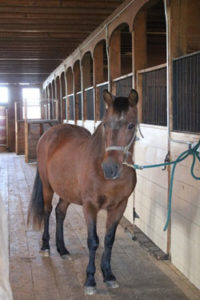 COLUMBO "BO"
Columbo aka "Bo" is an aged Paso Fino gelding in his early 30s. He came to us, along with Pasha, from a very attentive and loving local woman who because of age and illness in her home could no longer care for him. He has a magnificent, classic gait and a very wise, stubborn; yet inquisitive manner. Bo is very connected to Pasha as they have spent many years together and gets very upset when they are separated so we keep them close as possible at all times.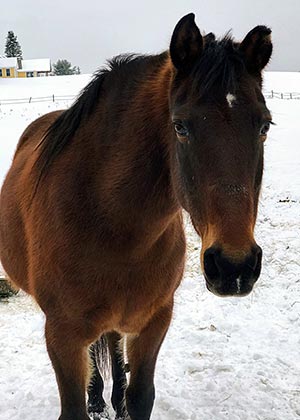 DESTINY
Destiny is an older Rocky Mountain horse mare with an inquisitive nature and a zest for life. She came to us after being rescued from a situation of neglect. Upon arrival, Destiny was quite scared of humans and was especially fearful of being haltered or having her head touched. After many weeks of patient, dedicated and compassionate care, Destiny recovered physically and is very well on her way to emotional healing as well.


$30/monthly for 6 months $50/monthly for 6 months $100/monthly for 6 months

$30/monthly for 1 year $50/monthly for1 year $100/monthly for 1 year
$30/monthly for 2 years $50/monthly for 2 years $100/monthly for 2 years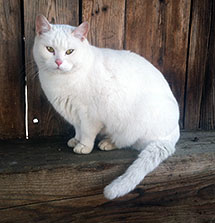 LUCY
Lucy came to us after living as a stray for the first year of life. She was thin and in poor health, however, with a bit of quality veterinary care and some love, her life is turning around. Lucy is incredibly brave and smart. She follows the caretakers of the animals around the grounds as they do their tasks, greets every animal and is quite successful at mouse patrol. She and Buster are becoming fast friends, loving to chase and play with one another.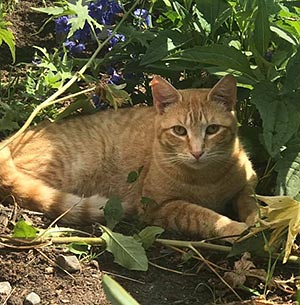 NOODLE
Noodle is a spunky and adventurous, friendly male orange tabby cat that is quickly winning over Lucy's heart and all those he meets. He spent the beginning of his life on the streets, fending for himself, but now he is king of the barn; hunting and exploring all day and night. He will sure be one of the first residents you meet if you visit, as he and Lucy have become our dedicated greeters.


$30/monthly for 6 months $50/monthly for 6 months $100/monthly for 6 months

$30/monthly for 1 year $50/monthly for 1 year $100/monthly for 1 year
$30/monthly for 2 years $50/monthly for 2 years $100/monthly for 2 years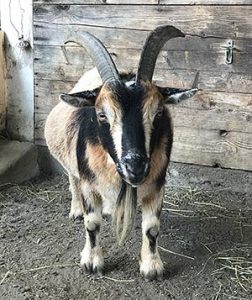 LUKE
Luke is one of the two larger male pygmy goats. He has very handsome, long symmetrical horns and a very proud demeanor. He loves to be scratched all over and to romp around with his brother and sisters, butting heads.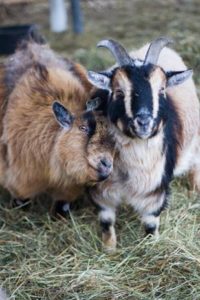 LEESIL
Leesil is the largest of the pygmy goats. He is friendly and often asks people to scratch his head. He, along with the other goats, eats a healthy and well regulated diet of hay and grain but enjoys small snacks of white bread. (Picture courtesy of Rita Mae Photography. Leesil is on left beside Luke on  right.)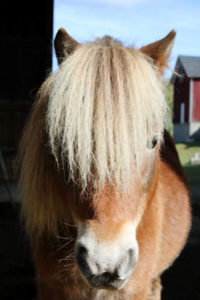 BUCKY
Bucky came to the sanctuary January 2015 with two other miniature horses. All three were starved and grossly neglected. They had very poor body condition, rotten and overgrown hooves, skin problems and major trust issues; especially Bucky. He has since been rehabilitated to full health and is learning to trust humans again. He is very smart and sweet, but takes some time to get to know new people and is frightened of quick movements.)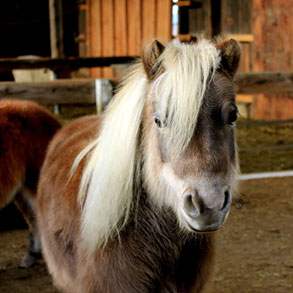 SASSY
Sassy was party of a family of miniature horses rescued in January 2015 during a violent and cold blizzard. She and her herd-mates were emaciated and very neglected, needing months of rehabilitation to return to full health. Sassy is now very happy and healthy, and living up to her name! She demands respect and attention of humans, and loves to be told how beautiful she is.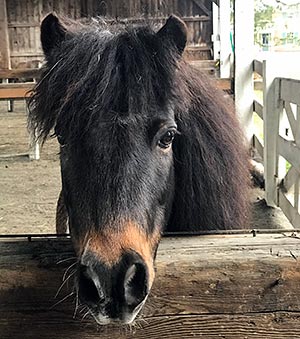 BROWNIE
Brownie is a very friendly brown and white pinto pony gelding. He came to us after he lost his usefulness as a competitive pulling horse, and was no longer wanted. Brownie has many physical ailments, some chronic and others a result of earlier mismanagement. To keep Brownie in good health, his diet must be carefully maintained and he occasionally requires supplements and medications when he has flare-ups from his insulin resistance. Brownie is also permanently blind in his right eye and has a respiratory restriction that is noticed when he gets excited or runs around a lot.
Despite his physical challenges, Brownie maintains an energetic, joyful outlook on life.


$30/monthly for 6 months $50/monthly for 6 months $100/monthly for 6 months

$30/monthly for 1 year $50/monthly for 1 year $100/monthly for1 year
$30/monthly for 2 years $50/monthly for 2 years $100/monthly for 2 years
SPONSORSHIP of a MVFAS FARM ANIMAL RESIDENT INCLUDES:
A photograph of your animal (suitable for framing)

A biography of your animal

Updates on your animal's life at the sanctuary

The satisfaction of knowing that you are helping to save an animal from abuse, neglect or abandonment.
To sponsor a resident, please contact us at 802- 626-9924.
Email us, or click on a sponsorship button to pay online using PayPal or any major Credit Card. 


Thank you for making a Regular Monthly Donation to assist in our Animal Rescue and Maintenance Efforts.