Sponsor A Resident Farm Animal
Not everyone is able to provide the required shelter or long-term financial commitment needed to rescue a farm animal. Farm Animal Care Sponsorships offer a unique opportunity to compassionate people who would personally rescue as many animals as they could – that is if they had the proper housing, zoning, and time to devote to animal care.
Our program is designed to help meet the expenses of the sanctuary while allowing you to take a personal interest in the life of an individual animal. For as little as $30.00 a month you can sponsor an animal resident. Your donation will go directly toward shelter, food and medical care of the animal of your choice. Sponsorships also make a great gift for your animal-loving family and friends.
If interested in sponsoring one of the animals at Mountain View Farm Animal Sanctuary below, please choose the appropriate sponsorship button next to their picture.
GRACE
Grace is a lovely older, retired Standardbred mare that has found her soft place to land and spend the rest of her years of well-deserved rest here at the Sanctuary. She was rescued in January 2016 by Gerda's Animal Aid just moments before being loaded on a truck to go to slaughter in Mexico at a feedlot in Pennsylvania. This sweet girl served many years of dedicated work to humans as a harness racehorse, a broodmare and then an Amish buggy horse for many hardworking years. As a result of the work she endured, Grace has very weak hind legs causing her to never be sound to ride or drive again, which is quite alright because she deserves her retirement. She arrived to us very thin, with health issues related to the neglect she experienced prior to rescue, but she is slowly being rehabbed and will now live out the rest of her years happy, healthy and safe. She has an incredible temperament. She is the essence of wisdom and resilience, with a bright spirit.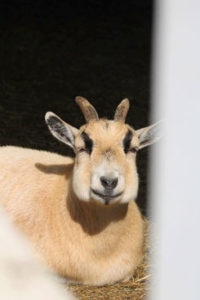 JULIE
Julie is one of the smaller pygmy goats, along with Lily and Matilda. She has a beautiful buttermilk coat and an intense curiosity, though is the most skittish of the goats. She is particularly fond of Melvin and was the first goat that he bonded with upon arriving at the sanctuary.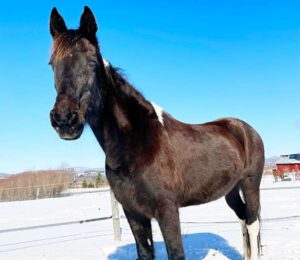 SPIRIT
Spirit is a beautiful and sweet senior Tennessee Walking Horse mare.
Spirit was initially rescued by her owner from a kill pen (where horses on their way to slaughter are held) and spent the past few years prior to coming to us living solely with her human owner.
When her loving owner began to struggle with her health, as well as being able to supply Spirit with good nutrition due to lack of availability and all other home options fell through due to Spirit's age and her vice of cribbing, her owner asked us to take her on for her safety. Spirit is a horse that could very well be susceptible to ending up in a kill pen once again, and we are grateful to be able to offer her sanctuary.
Spirit has a very kind and gentle, yet spirited persona; not to mention her beautiful black coat and striking white markings. She is slowly winning the hearts of all who meet her and we are happy to have her with us.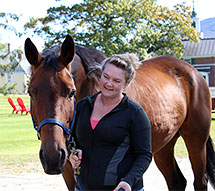 LEANDER
Leander was rescued by us at a very young age to give him the opportunity of a full life because he has a congenital spinal condition called "Wobblers" that causes periodid ataxia (unsteadiness) that prevents his being ridden. Leander is a Thoroughbred gelding in his early teens. He is very playful and can sometimes be a bit mouthy or "nippy", but is not mean-spirited one bit. He does not let his condition prevent him from enjoying life and can often times be seen running, rearing and bucking with his pasture-mates.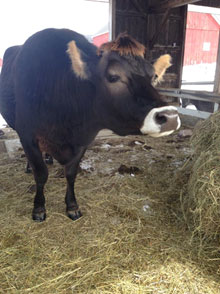 CABOT
Cabot was rescued from a farm by a young woman just before he was to be processed for veal. She had befriended him almost since birth and called us quite upset when she learned of the fate that was planned for him. At first, Cabot was so small that he had to be kept from the larger cows we have rescued, but now he is big and strong enough to be with them out in the large field, and he seems to like that a lot. He is the friendliest of the cows, probably because he was treated so well by the young woman who asked us to take him in.
Dolly
Dolly is a gentle and curious, sweet older Quarter Horse mare who came to us on Valentine's Day 2018 when she was rescued from a situation of neglect. Dolly has had a long road of rehabilitation and recovery, which we suspect will continue due to her chronic physical issues, but she still remains to have a bright outlook on life.
Dolly is missing her right eye from an event that happened at a young age, but the loss doesn't seem to bother her one bit. She enjoys spending her days napping in the hay, accompanied by her pasture mates Grace and Destiny. Thank you for making a donation to help us support Dolly.


$30/monthly for 6 months $50/monthly for 6 months $100/monthly for 6 months

$30/monthly for 1 year $50/monthly for 1 year $100/monthly for 1 year

$30/monthly for 2 years $50/monthly for 2 years $100/monthly for 2 years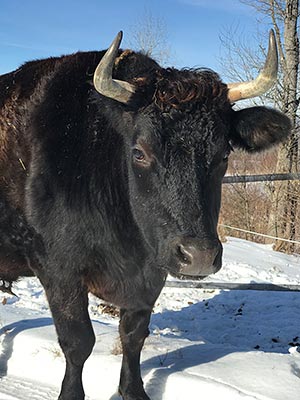 REMI
Remi is a robust and curious young steer that came to us when Cabot lost his two older companions due to age. At the same time, the rescue that had taken Remi in as a rescue from slaughter was in search of a suitable place for him to live out his life. Now he happily resides at the Mountain View Farm Animal Sanctuary, experiencing the joy of living out his days with his pal, Cabot, at his side. Remi and Cabot are similar in appearances, however, Remi has handsome big horns.


$30/monthly for 6 months $50/monthly for 6 months $100/monthly for 6 months

$30/monthly for 1 year $50/monthly for 1 year $100/monthly for 1 year

$30/monthly for 2 years $50/monthly for 2 years $100/monthly for 2 years
JONI
Meet Joni. J is a Standardbred gelding who was initially rescued from the kill pen by our fellow rescue, Gerda's Equine Rescue", and then found his way to us. Although he bears the scars of many years tirelessly working for the Amish community as a carriage horse, he is still full of life.
Since coming to us, J has blossomed into a healthy, exuberant and goofy horse. He prefers humans and miniature horse friends over those of his own likeness. He has a quirky personality and loves to frolic and play. We are happy to be able to provide him with a place that he can let go and express himself, without need to do hard labor. Just be a horse.
CHADWICK"CHAD"
Chad came to us along with his companion, Zip following the passing of their owner, and the question of the safety of their future. He is a handsome senior Thoroughbred gelding with a sweet, wise persona. From what we know, Chad spent some of his earlier years with a loving family, whose daughter he developed a deep bond.
Aside from his time with this family and in his most recent previous home as a companion for Zip, we were told that he "worked" as a buggy horse at a Vermont resort until he good no longer meet the demands asked of him.
Chad is in fairly good health for his age. He does have arthritis in numerous areas of his body and has been diagnosed with Cushing's disease. He receives medication for both of these conditions.
Additionally, like most older horses, he doesn't have the greatest teeth so he eats mashes and mostly second cut hay, which is less coarse and easier to chew.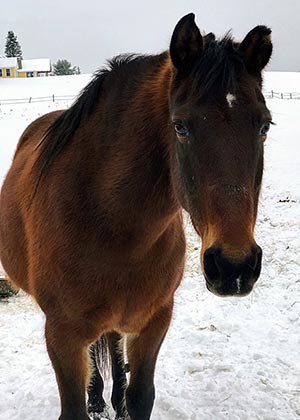 DESTINY
Destiny is an older Rocky Mountain horse mare with an inquisitive nature and a zest for life. She came to us after being rescued from a situation of neglect. Upon arrival, Destiny was quite scared of humans and was especially fearful of being haltered or having her head touched. After many weeks of patient, dedicated and compassionate care, Destiny recovered physically and is very well on her way to emotional healing as well.


$30/monthly for 6 months $50/monthly for 6 months $100/monthly for 6 months

$30/monthly for 1 year $50/monthly for1 year $100/monthly for 1 year

$30/monthly for 2 years $50/monthly for 2 years $100/monthly for 2 years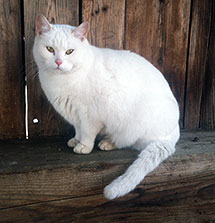 LUCY
Lucy came to us after living as a stray for the first year of life. She was thin and in poor health, however, with a bit of quality veterinary care and some love, her life is turning around. Lucy is incredibly brave and smart. She follows the caretakers of the animals around the grounds as they do their tasks, greets every animal and is quite successful at mouse patrol. She and Buster are becoming fast friends, loving to chase and play with one another.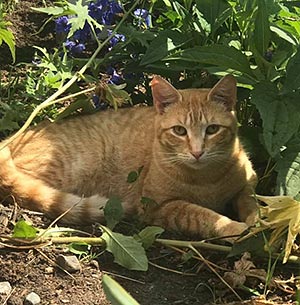 NOODLE
Noodle is a spunky and adventurous, friendly male orange tabby cat that is quickly winning over Lucy's heart and all those he meets. He spent the beginning of his life on the streets, fending for himself, but now he is king of the barn; hunting and exploring all day and night. He will sure be one of the first residents you meet if you visit, as he and Lucy have become our dedicated greeters.


$30/monthly for 6 months $50/monthly for 6 months $100/monthly for 6 months

$30/monthly for 1 year $50/monthly for 1 year $100/monthly for 1 year

$30/monthly for 2 years $50/monthly for 2 years $100/monthly for 2 years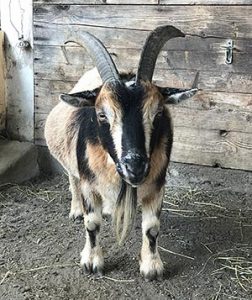 LUKE
Luke is one of the two larger male pygmy goats. He has very handsome, long symmetrical horns and a very proud demeanor. He loves to be scratched all over and to romp around with his brother and sisters, butting heads.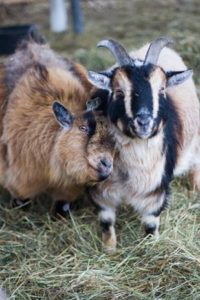 LEESIL
Leesil is the largest of the pygmy goats. He is friendly and often asks people to scratch his head. He, along with the other goats, eats a healthy and well regulated diet of hay and grain but enjoys small snacks of white bread. (Picture courtesy of Rita Mae Photography. Leesil is on left beside Luke on  right.)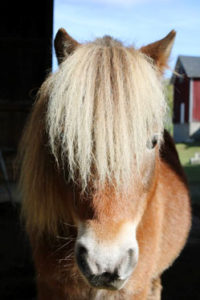 BUCKY
Bucky came to the sanctuary January 2015 with two other miniature horses. All three were starved and grossly neglected. They had very poor body condition, rotten and overgrown hooves, skin problems and major trust issues; especially Bucky. He has since been rehabilitated to full health and is learning to trust humans again. He is very smart and sweet, but takes some time to get to know new people and is frightened of quick movements.)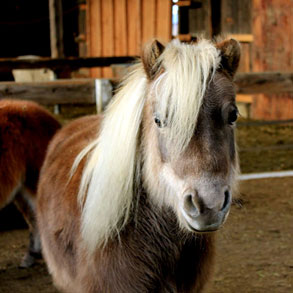 SASSY
Sassy was party of a family of miniature horses rescued in January 2015 during a violent and cold blizzard. She and her herd-mates were emaciated and very neglected, needing months of rehabilitation to return to full health. Sassy is now very happy and healthy, and living up to her name! She demands respect and attention of humans, and loves to be told how beautiful she is.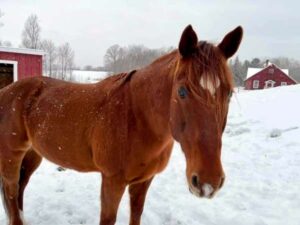 ZIP
Zip came to us along with his buddy, Chad, following their owner's passing and the impending sale of the estate that they lived on.
Zip is a gorgeous red-headed Quart Horse gelding. He is very inquisitive and playful, yet cautious and a bit anxious about new situations.
It is our understanding that Zip was destined at a young age to become a performance horse, racing barrels at competitions. That was until he began exhibiting explosive bucking episodes when attempts were made to ride him. The cause is still unknown, but it is suspected to likely be due to a physical issue with his back known as "kissing spine"; a condition in which the vertebrae in the back touch and pressure on the location causes pain. He does seem comfortable and pain-free at this time, however, we will keep a close watch for signs of discomfort and see if we can find out a bit more about this health issue. Zip is otherwise a very healthy boy.
Due to his physical issue and the fact he is unrideable, we felt strongly that he was at very high risk for being placed in an unsafe situation, for both him and the humans involved. "Unrideable horses" are typically the last to be considered by homes and companion situations are hard to come by; especially this year in light of the pandemic and limited hay supply due to poor weather conditions. Horses like Zip can also easily find their way into auction houses and the slaughter pipeline if they fall into the wrong hands. None of the scenarios are what we would wish for on any horse, and we are thankful to be able to offer Zip safety and understanding.

$30/monthly for 6 months $50/monthly for 6 months $100/monthly for 6 months

$30/monthly for 1 year $50/monthly for 1 year $100/monthly for1 year

$30/monthly for 2 years $50/monthly for 2 years $100/monthly for 2 years
SPONSORSHIP of an MVFAS FARM ANIMAL RESIDENT INCLUDES:
A photograph of your animal (suitable for framing)

A biography of your animal

Updates on your animal's life at the sanctuary

The satisfaction of knowing that you are helping to save an animal from abuse, neglect, or abandonment.
To sponsor a resident, please contact us at 802- 626-9924.
Email us, or click on a sponsorship button to pay online using PayPal or any major Credit Card. 


Thank you for making a Regular Monthly Donation to assist in our Animal Rescue and Maintenance Efforts.